Written by Jennifer Parr Category: Music Theatre Published: 30 January 2020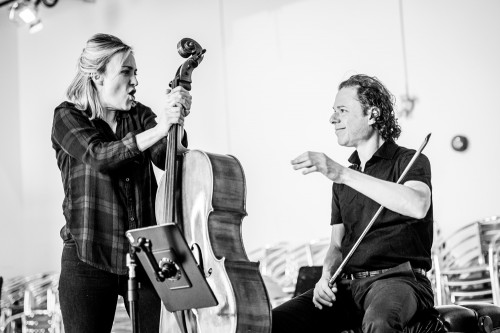 Toward the end of January I was invited to sit in on an early staging rehearsal of the new opera, Jacqueline, gaining a rare glimpse into the creation of this experimental world premiere that explores the life and legacy of celebrity virtuoso cellist Jacqueline du Pré, who, at 23, began experiencing numbness in her fingers, at 28 was diagnosed with MS and stopped playing the cello, and in 1987 passed away at age 42.
While the work's stated format, a duet for soprano and cello, sounds as though it might be very static on stage, what I saw in the rehearsal room was the exact opposite. It moves, is playful, fun, exciting, sad, and unexpected. The music, both vocal and instrumental, is gorgeous and sometimes startling in its layering and detail, echoing the same experimental nature of the libretto and the whole approach of the production. The staging that I saw is equally dynamic: as if happening in the moment, always grounded in the characters' motivation and inspired by the music, using the full space of the stage, finding a physical shape for everything happening in Jacqueline's mind and memory. Versatile soprano Marnie Breckenridge embodies Jacqueline du Pré, but at many different ages and stages of her life; the second "character," is the cello itself – Jacqueline's closest friend, partner of her greatest successes, witness and sharer in her failures and losses, and finally a potent symbol of her legacy to the world – portrayed by renowned cellist Matt Haimowitz.
There have been other dramatic interpretations of the life of Jacqueline du Pré: notably the play Duet for One by Tom Kepinski made into a film starring Julie Andrews in 1986, and the successful but controversial 1998 film Hilary and Jackie, starring Emily Watson and Rachel Griffiths, with a screenplay by Frank Cottrell-Boyce based loosely on conversations with du Pré's siblings. There is even a new ballet, The Cellist, being created for England's Royal Ballet this year by Cathy Marston. All of these, however, follow a primarily linear narrative of du Pré's life from early success to international stardom, to her famously sad diagnosis of multiple sclerosis, and the devastating effect that this had on both her personal life and her career.
Jacqueline, on the other hand, is not linear but multi-layered, moving through time but also freewheeling into the emotional life, memories and dreams of its central character and her other half, her cello. The concept and inspiration for the new opera came from celebrated Montreal-based composer Luna Pearl Woolf, who says "Jacqueline du Pré has always been in my consciousness as a legend, as a tragic hero, and certainly as integrated into the lives of all the cellists that I know."
The first impetus to create Jacqueline, in this unique form of duet for soprano and cello, came in 2015 as Woolf finished creating a new medium-sized work for the Washington National Opera. All the producers and opera promoters she was speaking to were looking for even smaller works, with smaller casts, able to be easily produced in smaller performance spaces and taken on tour.
With this "idea of trying to tell an operatic story with very, very, small forces" percolating in her mind, she went to see a concert where, as it happens, two pieces of hers for soprano, cello and piano were being performed by Breckenridge and Haimovitz. "The way they made music together," she says, "was so electric and just so compelling that I could not look away. They are both intensely creative musicians who have played or sung quite a few of my pieces, and I find that each time, no matter the circuitous path they might follow, it ends up feeling as though they are truly inhabiting the ideas in the music, and finding joy in discovering the musical relationships within what I am writing. Watching them pass this joyful energy back and forth made the music explode even more and inspired me. So, I thought, what if I was writing an opera for the two of them? Well, it's obvious, the opera for the two of them has to be about Jacqueline du Pré."
Part of the reason for that, she explained, "is that Marnie has a radiant beauty that transcends time and age and character. I have seen her play dark characters and light characters, I have seen her play young and play old, and there's something about her that radiates, and that can be said about Jacqueline du Pré to the nth degree. Jacqueline's essence was that she had this otherworldly glow of talent and energy and personality."
The other impetus for creating Jacqueline as an opera for these two artists, Woolf says, was "Matt, whom I've worked with as composer, performer, and on many other levels of partnership for over 20 years. We had talked about [du Pré] a lot, and I knew, when I first had the idea, that he had met her and spent time with her. What I discovered in the process of working on the opera was that Matt's connection to Jacqueline is very deep."
When Matt was just 14 and performing in New York, he met Jacqueline's husband, the famous pianist and conductor Daniel Barenboim, whom she had married at age 21 and with whom she had performed around the world until the time she got sick and could no longer play. Since that time Barenboim had not performed with another solo cellist, but when he heard Matt, as Woolf says, "The musicality, the energy, the spirit, that Matt had as a musician inspired Daniel and he thought 'I'd like to play with this person, but I have to introduce him to Jackie first.' So, he brought Matt to London and he spent time with Jackie, played her instruments for her, studied with her, and even watched her videos with her while she was incapacitated, as it was almost the end of her life. Obviously, that had a great impact on Matt as a young person, and what we learned about her through his experience has been invaluable to the process of making this opera."
In 2016, at the suggestion of Marnie Breckenridge, Woolf teamed up with Pulitzer Prize-winning Canadian librettist Royce Vavrek, whom she knew but had never worked with, and who, she says, has "a real sense of being able to capture that vibrant innocence that Jacqueline du Pré has." Tapestry Opera's artistic director, Michael Mori, also, soon came on board as dramaturge and director, and the development process began, leading to several workshops whenever and wherever the team could gather, and finally to rehearsals at Tapestry. The structure, as well as the music, would be inspired by Elgar's Cello Concerto, a work synonymous with du Pré's career, and her most famous recording. Like the concerto, the opera has four movements, four stages in the journey of "delving into what Jacqueline was as a spirit, what made her so otherworldly and so incredible, as well as what it means for a person who is experiencing a life of such international fame and glory to have it all taken away."
Though roughly chronological, this is by no means a linear biography, more a series of "psychological snapshots" that can, in the later part of the opera in particular, hop between time periods. In the first movement, Woolf explains, "we see what Jaqueline was when she was totally alive, including when she is five years old and falls in love with the cello." This followed by flash points as her career soars, until there is a "snap" to the second movement where she is at "this matrix of a life that was so intense, with signals that were crossing, the beginning of the disease." Part of the tragedy was that when she tried to seek help for what was wrong with her, no one knew what it was. "People would tell her that she was exhausted because she was a woman trying to do a man's job." The third movement gets more fantastical, as she has to retreat from public view and at the same time is being bombarded by personal betrayals on all sides, to the fourth movement where she is almost incapacitated and can only drag herself around the stage.
"Through this whole thing," Woolf says, "what we've developed is that the cello who is onstage with her is her closest ally. It's her. The cello is anthropomorphized in Matt. Matt is that 'person' who is right next to her, her lover, her friend through her whole life until that moment when she has to split with him because she can no longer play; and, really, that is the moment that Matt, the actual person, actually met her."
As Woolf was telling me this it sent shivers up my spine.
Toward the end, although Jacqueline can barely move and is separated from her cello – who plays alone as if singing an ode to her – she does begin to realize that she can live on through her recordings. As Woolf says, "this is a complicated ending because we are not happy for her, but we are glad for her, and for us, that her talent, her gift to the world, is still with us."This points as well, to a theme: to Woolf's and Breckenridge's shared belief that part of the purpose of the opera is to say "We all have our spark, we need to use it, and we need to pass it on. Jackie only had ten years to do these things, but look at what she did in that time. We may not all be extraordinary like her, but whatever we have can be launched into the world."
Jacqueline plays at the Betty Oliphant Theatre, February 19 to 23. Cast – Soprano: Marnie Breckenridge; Cello: Matt Haimovitz; Libretto by Royce Vavrek; Music by Luna Pearl Woolf; Dramaturgy & Direction by Michael Hidetoshi Mori; Set & Costume Design by Camellia Koo; Lighting Design by Bonnie Beecher.